BETTIE FORD | Rock | Köln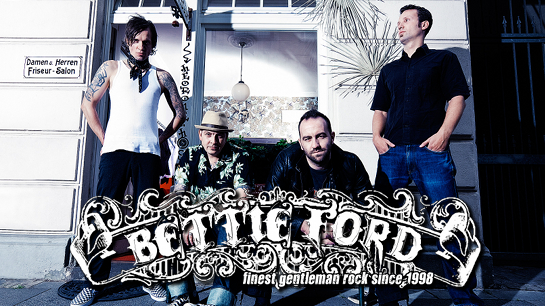 Es gibt noch keine Bilder von BETTIE FORD.
BETTIE FORD mixen einen Cocktail aus den besten Zutaten der Genres Punkrock und Rock'n'Roll. Der Legende nach wurde die Band 1998 auf einem Konzert der Japaner GUITAR WOLF gegründet und ganz nach dem Motto "was die können, können wir auch" begannen die Rock´n´Roller zu proben. Seitdem haben die Kölner als Einheizer für diverse internationale Größen wie z.B. THE BONES, THE FLAMING SIDEBURNS, PSYCHOPUNCH oder THE BOSS HOSS ihr Können unter Beweis gestellt. Natürlich standen auch Touren und Headline-Shows mit auf der Karte. Unter anderem in Russland, wo die Jungs von einer recht großen Anzahl von Fans gebührend empfangen wurden und volle Häuser rocken durften. Egal ob vor drei, 300 oder 1000 Zuschauern, die Formation um Goldkelchen Don Ford gibt live alles und konnte ihre Entwicklung außerdem auf bislang drei Alben dokumentieren. Mit jedem Tonträger wurden sie stärker und Deutschland (und auch der Rest der Welt) ist gespannt was da noch kommen wird.
Don Ford (g./v.)
Silver Revolte (g.)
Rock Vegas (b.)
Brat O'Hara (dr.)